As the old adage has it – the best time to plant a tree was fifty years ago: the second best time is now. This is perhaps truer than ever. Last winter (has it even finished?!), we planted or oversaw the planting of 70,000 trees in three months - a huge achievement for us. Around 15,000 were planted by known and trusted partners; 30,000 by farmers and land managers on their own farms across our region; and a little over 25,000 by you, our volunteers, at a wide variety of woodland and hedgerow creation schemes. Take a bow.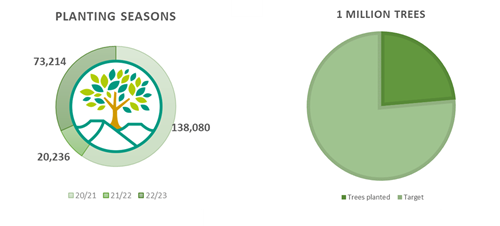 For us, tree planting is about putting diversity back into the landscape, to address the critical climate and nature crises we now face. Highlights from this planting season include:  
Working in partnership with the Bannau Brycheiniog National Park Authority to plant 13,000 trees with farmers, in new and restored hedgerows. 
Planting hedgerows in the Usk Valley, an internationally important roosting site for lesser horseshoe bats.
Planting broadleaf trees on former conifer plantation 
Designing and planting for key land management priorities including increasing native woodland and shelterbelts for livestock and designing super thick hedgerows to ensure they can be laid in the future.
Planting riparian and catchment treescapes to support water management and reduce flooding.
Sharing our expertise and the knowledge we have gathered from others through our Woodland Creation team, led by Kate Beavan: sometimes being able to advise people where not to plant and reason why is just as important as helping them work out where to plant.
Planting trees isn't the end, of course, but it might just be the end of the beginning. We haven't just planted 70,000 trees, rather we now have 70,000 trees in our landscape under the caring eye of the Stump family. We're in the business of landscape restoration and that means long term relationships, maintaining and monitoring our woodland creation schemes to ensure that our trees have the best chance of becoming established. We prioritise working with land managers and we learn from them, to discover the very best ways that trees can play a part in our future landscapes.
In fact, we're always learning - from the trees we have already planted, from the landscape and from our community. If you'd like to get involved and think that your farm, or landscape might benefit from an enhanced treescape, please get in touch: hello@stumpupfortrees.org. 
A huge shout out to all our sponsors who have made this happen, and in particular our key partner, Utility Warehouse.