In a fortnight when Autumn has definitely arrived and the weather has gone from gale to mizzle, we were delighted this Saturday by the one glorious day. As it was our final day for Bracken Bashing on Bryn Arw so we made the most of it! We completed clearing the last of the Hawthorn groves - planted in the Welsh letters 'DAW ETO DDAIL AR FRYN'.
Firstly a huge thank to all who came out to help, both on the hill and at the nursery. In particular to our outstanding volunteer James - who not only took on the interesting job of finding all the lines of the groves amid the towering bracken; but single handed cleared a whole letter himself! We are but mere mortals in his presence, and very grateful ones at that.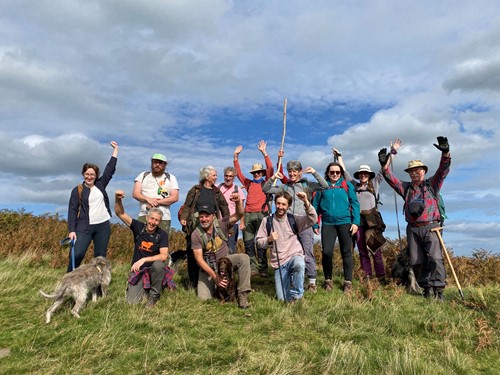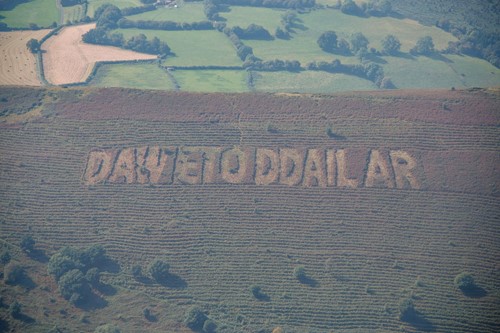 (The letters photographed earlier last week before our last session)
Getting out on the hill is always an opportunity to review the site and reflect on the year past. It's therefore a great time to do a review of the year on Bryn Arw for you all - so please find below an update on all the activities over the spring / summer on our beautiful hill. I'll link this report separately as a blog post with additional photos - but the summary in brief is included here
The Stump Team
Bryn Arw Report
In general, the spring/summer growing season of 2023 has been a good one. We may have been short a bit of sunshine, but there has been plenty of rain, in contrast to the summer of 2022.
In Spring and early summer, we successfully completed the ecological surveys on the site for Birds and Flora. Highlights include two adder sightings and beginning to see the incremental change in the ground flora as the mower disrupts the bracken, with grasses and more diverse vegetation returning to the hill.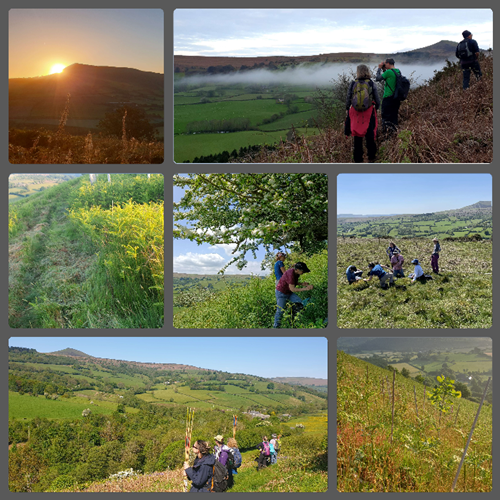 We are very pleased that the University of South Wales engaged with us in late 2022, which discussions led to an MSc student in ecology and environmental science working with us to provide more detailed and a greater level of data to our ecological base. Considering ecological restoration of commons across South Wales, we were also delighted that the Bryn Arw project attracted interest from Bristol University and we have co-supervised another MSc researcher exploring further projects.
We are still deliberating how best to marry the data with the Biodiversity Information Service for South Wales, and we're working with volunteers at the ONS to establish how best to deliver this.
Keith mowed the greater part of the plant site in late June, July and early August. Where the bracken growth allowed, he managed to get two cuts in. We have had several groups of volunteers on the hill at various points over the summer, managing bracken by hand and lifting last years growth off the trees and cutting brambles. This has involved around 300 hours of volunteer time! These groups have included our own Stump Up For Trees volunteers, local businesses and a school group. A significant part of this work involves managing bracken in the Welsh letters. To remind you, we planted DAW ETO DDAIL AR FRYN ("There will be leaves on the mountain again") with Hawthorn saplings at 1m spacings, in the expectation that the trees will blossom white in the shape of the letters in the years and decades to come.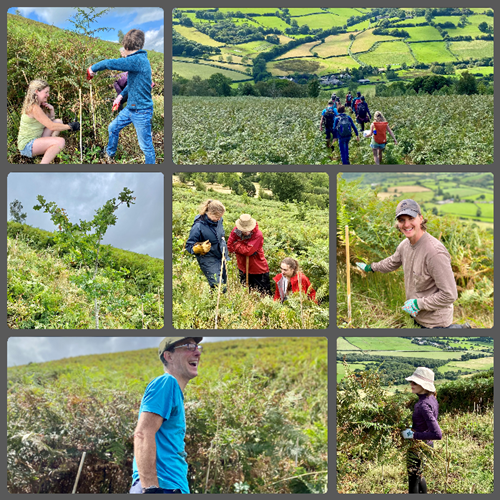 Broadly, the trees look very good – a cause of great encouragement among the Stump Up For Trees team and proof of concept for the methodology we have adopted. More specifically, the different species are growing in ways that we would have predicted: many Rowan are already at 6-7ft; Downey Birch are at 5-6ft; Bird Cherry and the small number of Sweet Chestnut planted are at 4-5ft; the Hawthorn, Crab Apple, Hazel and Oak will need our continued attention for several more years to ensure they get through the bracken and reach establishment. Because the sheep are excluded from the plant site, natural regeneration is taking place at a good rate: key species are Hawthorn, Rowan and Oak. Finally, plenty of Rowan and Downey Birch have produced seeds and berries this summer and have begun their own reproductive processes.
This project remains the leading project for establishing trees for ecological restoration in Wales. Everyone else is still talking about it, rather than doing it. As such, we have been delighted to welcome and show round the plant site representatives of the Duke of Beaufort estates, Undergraduates and Postgraduates from Bangor University, Woodland regulators from both Natural Resources Wales and Defra.  Publicity has slowed a little this year, however, we did have a film crew from Countryfile (up to 6M viewers weekly) and we featured strongly in an episode about the Bannau Brycheiniog National Park (https://www.bbc.co.uk/iplayer/episode/m001q292/countryfile-bannau-brycheiniog from 10mins 15secs). When filming, Keith and Rob managed to mention the part that UW had played in the project, but all references were edited out – this is the way with Countryfile. We also featured on BBC Wales today and a film production company working for the Save Our Wild Isles crowdfunder are in the process of making a film about Stump Up For Trees generally and Bracken Bashing will feature.
We'd like to thank Utility Warehouse for their contribution to this project and ongoing support.