At the beginning of the year, we (briefly) got very excited about this - our first community generated, micro-finance initiative. Of course, lockdown put the idea on ice for a while. And, though it is still too early to know exactly what tourism in the Brecon Beacons will look like in a post-covid world, it is worth reflecting on the originality and ambition of this.
'Room for Trees' was the idea of James Suter, one of our trustees who runs the Gliffaes Hotel near Crickhowell (which has an amazing collection of native and specimen trees, by the way).
In short, the hotel will donate £1 to Stump Up For Trees for every room night sold; the hotel will also add £1.50 to the bill of every guest, and donate that too. Simple. Effective. A new way of raising money for trees. Conceivably, a new way of financing conservation at a community level, across the UK.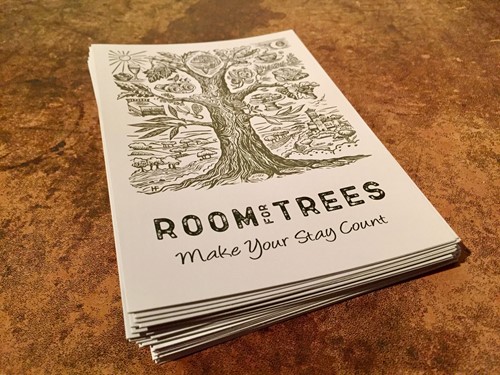 The plan is to propose 'Room For Trees' to lots of other accommodation providers throughout the Brecon Beacons shortly, through Brecon Beacons Tourism and other umbrella organisations. You can read a bit more about 'Room for Trees' on the images. These cards are in every room at the Gliffaes.