"Live as good a life as you possibly can, and leave behind footprints that someone else wouldn't mind walking in - that's all you can do".
Trying to get a time when Misti and I were both available was tricky. Working with Stump, I can be in and out of the office, and Misti gave up a lucrative career as a designer to focus on her work as an abstract sculptor, 'to live in the woods and be happy in my soul', which is amazing, but means it's pretty hard to get her on the phone.
However, when we received a message saying that a sculptor was donating all the proceeds from the sale of a piece at auction to Stump Up For Trees, I had questions.
Now there are hundreds of different reasons why people donate to Stump. I don't often get a chance to ask people directly and I love hearing why. When I went to look at the sculpture Misti had donated the proceeds from, I really had to get in touch. The piece is evocative, a familiar image but with a message - the blood-red tear captures much of the shift in environmental awareness that has, finally, become fundamental in our lives. Then, of course, it's made out of wood.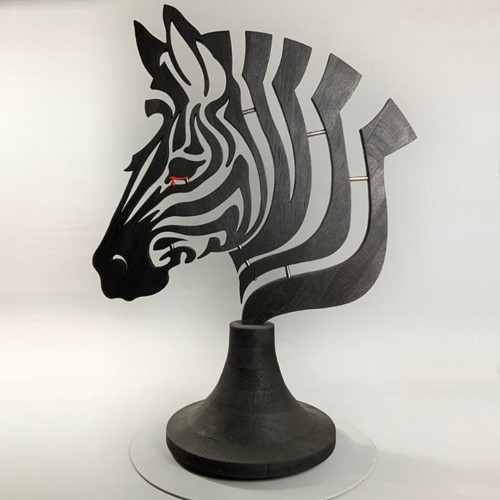 'I Weep For Nature'
https://misti-leitz.co.uk/buy/sculpture/i-weep-for-nature
Now I'm the daughter and granddaughter of artists - I've heard my Grandma calling bull and laughing at someone trying to interpret her husband's work, and I realised I was making automatic assumptions about the piece itself and why Misti might have donated it. So I emailed her and we both managed to get out of the woods for long enough to talk.
Misti had taken part in Channel 4's reality tv competition 'Handmade: Britain's Best Woodworker', though when she applied it was called 'Good with Wood' and she was a bit mortified by the name change (she's obviously damn good but would never have claimed to be the best). Now we've all seen enough Bake Off or Strictly to know that the time limits set for challenges in tv shows never reflect the time an artist would normally spend in thinking about, exploring, or developing ideas for work, which might take years to come to fruition. Working in the tight tv timeline, with a brief to produce an animal sculpture, Misti leant on her design skills and adapted an already existing image - creating something new by transforming it from 2D to 3D, and adding the tear of blood to give it a powerful message. While this is not unusual in the art world, it left Misti with an undoubtedly beautiful sculpture with a strong identity, but one which she felt not only relied too heavily on the original image for its beauty, but also didn't fit in with her own creative output as an artist.
After the show had aired, Misti had literally hundreds of offers for the piece, but she felt that selling it for her own gain would have been benefiting from someone else's work, which didn't feel like the right thing to do - but what was?
Given the nature of the piece and the message it delivers, she decided that the proceeds should go to support a charity with a strong ecological focus. She looked into charities dedicated to rewilding deserts, and charities dedicated to saving bees, but when she came across Stump up for Trees, something struck a chord. Not only were they planting trees (and Misti does love trees and working with wood) but also the television show had been shot on location at the Glanusk Estate, on the edge of the Brecon Beacons where they operate.
 "Stump Up For Trees were people who were doing something that was close to my heart, I love trees - I've used a lot of them in my life's work - it felt like such a perfect fit, that in the end, the decision that it should go to them was an easy one to make."
In the climate crisis, it can be hard to feel that we have any agency to make change. Something that is at the heart of Stump has been enabling people to do so, whether that's through donating, volunteering or making active change on their own land. It can still sometimes feel like a huge task. I know that I, for one, can feel overwhelmed by it all at times, but small individual actions can absolutely make change.
This winter we'll be planting trees that will grow in nature and will form their own sculptures – I don't think even the random nature of chaos could reflect a zebra in their branches. Misti wasn't hoping to save a zebra by planting trees. But those trees are part of a landscape shift and a cultural shift, one which will inspire more habitat to be restored. Those habitats together will absorb CO2, preserve water, and moderate temperatures. Those effects, together, save ecosystems and echo across the globe, and maybe, just maybe, also save a zebra somewhere.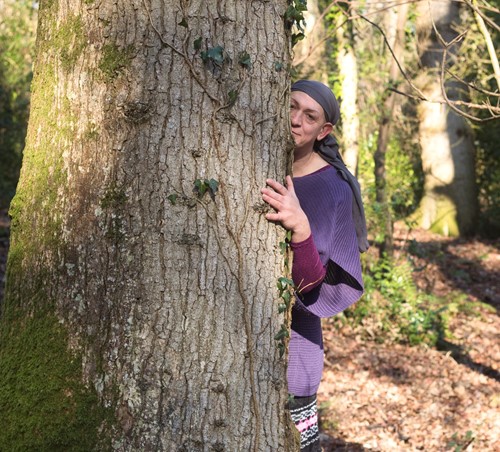 Misti Leitz is a sculptor based in Ludlow, Shropshire where she lives in the woods with her partner and two dogs. See more of her work here: https://misti-leitz.co.uk/
If you are interested in supporting Stump Up For Trees in our ecological restoration in South Wales, you can donate here: or get in touch with us at hello@stumpupfortrees.org
If you have land you feel would benefit from increased tree cover please contact our office or if you would like to volunteer please ask to sign up to our volunteering program.